Abel Tasman National Park
Welcome to New Zealand's smallest, sunniest, warmest, friendliest National Park! No part of the local coastline has seen more pages of history turned than this one, nor does any part play host to more visitors than this.
The Park's coastline was used extensively by the Maori in early times as is evident from the number of sites to be seen today. Abel Tasman in 1642 was the first European to sight the coast; following D'Urville's 1827 exploration, European settlement began. The first prominent settler was William Gibbs, farming at Totaranui in 1856. Soon there were boatbuilders, quarrymen, timber millers and more farmers, settled along the coast.
Little evidence now remains of these activities and areas once cleared for farming are now reverting to forest.
Although the Park is the smallest in the country, covering 22,139 hectares and rising only to 1134 metres at Mt Evans, it contains many features worth exploring - like the sculptured landscape of Canaan, the dramatic marble gorges draining into the Takaka Valley and the gently curved beaches of golden sand, separated one from another by rocky granite headlands. Fine stands of native bush grow down almost to high tide mark. Birds such as shags, gannets, terns and blue penguins may be seen on coastal waters, while the large, open estuaries attract oystercatchers, stilts and herons. Much of the Park is covered in beech forest but on more fertile sites the jungle-like rain forest is found, with its vines, perching plants and tree ferns.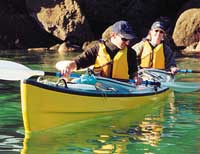 GOLDEN BAY visitors may enter the Park on foot via Canaan and some keen mountain bikers may arrive in Takaka via the Rameka Track. Most however will travel via Takaka and Pohara to the northern entrances. Tracks start at Wainui Bay. For those without transport, a low-tide crossing of this estuary cuts several kilometres off the trip from Takaka (watch for markers, cross near low tide). The main track heads for the historic hut at Whariwharangi, 1 and 1/2 hours away, but a shorter side track brings you to Taupo Point, an important Maori Pa site. From Whariwharangi a seemingly endless series of small beaches, rocky headlands (side track to Separation Point) and estuaries leads first to Totaranui. Many holiday-makers and hikers may have driven on from Wainui Bay, over the granite hill to arrive directly at the large DoC camping ground here at Totaranui. A large grassed area on the foreshore provides ample space for tents and caravans. The nearby "Old Homestead" with its facilities block provides a good base for school groups and caters for up to 40 people.
Kitset information for teachers is available. Domestic animals are not permitted, sorry.
You can spend a few days exploring the Park and coastline from Totaranui or you can continue on around the world famous coastal track. Another low-tide estuary crossing brings you to Awaroa. A unique refreshing stop-over. The full coastal track, all the way to the southern exit at Marahau - via many pristine beaches at Tonga, Bark Bay, Torrent Bay etc - usually takes 3 to 4 days. This intricate coastline is now one of New Zealand's most popular kayaking adventure destinations.
For all Park visits, long or short, you should request more information from an Information or DoC office. Bookings are essential for camping and huts over holiday periods.
Continue to read information about >>>> Golden Bay Beaches
---